COVID-19
Under development
Pennsylvania's Child Care Programs in COVID-19
PACCA recognizes the challenges and difficult decisions child care providers are encountering as a result of the COVID-19 pandemic. This is not a spring snowstorm that will melt at the end of the week or even a budget impasse that delays subsidized child care payments that will ultimately be paid.

PACCA has heard from many of you by phone, email, text, and Facebook. Unfortunately, it has taken something as catastrophic as a pandemic to demonstrate just how vital child care is in our society and economy. We hope the resources on this page will help you navigate our current. situation. Please check PACCA's Facebook page for the most current and newsworthy updates.
---
Resources and Recommendations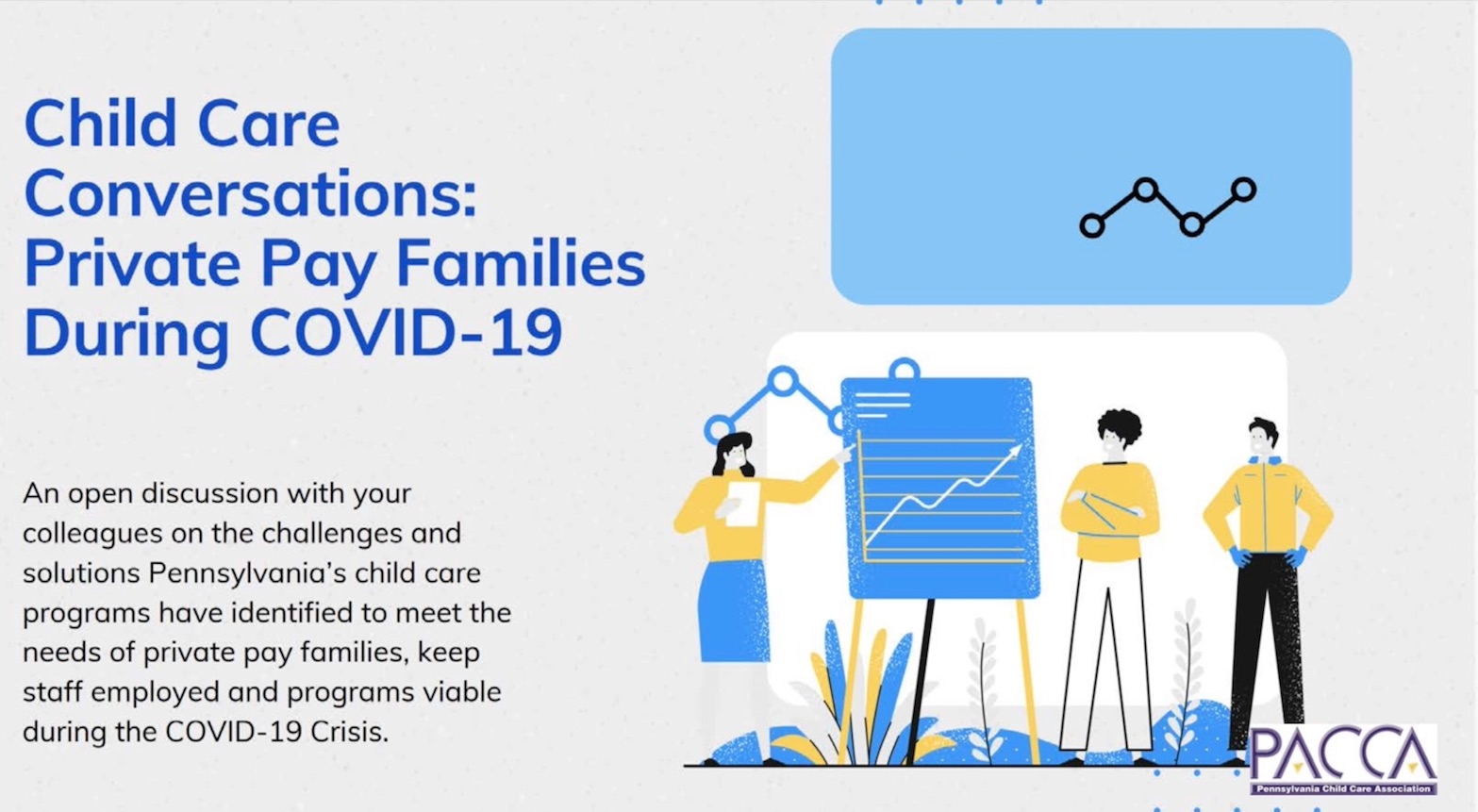 Child Care Conversations: Private Pay Families During COVID-19
An open discussion with your colleagues on the challenges and solutions Pennsylvania's child care programs have identified to meet the needs of private pay families, keep staff employed and programs viable during the COVID-19 Crisis.
https://youtu.be/lPvJ2w1P29Q
OPEN or CLOSED: Child Care and COVID-19
Governor Tom Wolf's closure of non-essential, non-life-sustaining businesses in order to mitigate the spread of COVID-19 established who is essential personnel. This list includes health care providers, emergency response personnel, grocery store employees, and home care workers, among others. Although
child care centers and non-residential Group Child Care Homes were directed to close under the Governor's order
, child care will be essential to personnel with young children to perform their duties.
Do you typically serve families who might be considered essential personnel and want to apply for a waiver?
Child care programs seeking a waiver from the commonwealth's temporary closure order, except those operating in Philadelphia, should complete the Exemption of Directive to Temporary Close form available
here
. Completed waiver forms should be emailed to OCDEL at RA-PWDRACERT@PA.GOV. Child care certification staff will respond to requests as quickly as possible. Email subject line should read, "Waiver Request – (Insert County Name)."
Providers who have already submitted applications should not resubmit or send additional requests to the RA-PWDRACERT@PA.GOV account.
Questions? Call OCDEL at 1-877-4-PA-KIDS or contact your Child Care Certification Representative.
Group Child Care and Family Child Care operating in a residence have been permitted to operate without a waiver. The decision to remain open or not is at the discretion of the individual operator. This flexibility is due to the smaller number of children they serve, their knowledge of enrolled families, and the ability to assess families' health as they are dropping off and picking up children.
Have you received a waiver? Considerations and procedures to protect children and staff in your program.