COVID-19
Pennsylvania's Child Care Programs and COVID-19
(updated 1/10/2022)
PACCA recognizes the challenges and difficult decisions child care providers are encountering as a result of the COVID-19 pandemic. This is not a spring snowstorm that will melt at the end of the week or even a budget impasse that delays subsidized child care payments that will ultimately be paid.

PACCA has heard from many of you by phone, email, text, and Facebook. Unfortunately, it has taken something as catastrophic as a pandemic to demonstrate just how vital child care is in our society and economy. We hope the resources on this page will help you navigate our current. situation. Please check PACCA's Facebook page for the most current and newsworthy updates.
---
Resources from our partner FocusHRO
COVID-19 Resources for Your Child Care Program
: FocusHRO has compiled a list of resources and articles to help you navigate the instability created by COVID-19.
---
Selected Other Resources
HEALTH & SAFETY

FINANCIAL

MANAGEMENT

OCDEL ANNOUNCEMENTS

Getting the COVID-19 Vaccine - Check to see if you are eligible and find a vaccine provider (PA DOH Website) UPDATED 1-6-2022

COVID-19 Guidance for Operating Early Care and Education/Child Care Programs UPDATED 11-16-2021

CDC Guidance for Child Care Programs that Remain Open (7-23-2020) printable version

FAQ: Reopening Doors of Child Care Safely -- June 2020: Children's Hospital of Philadelphia

CDC Decision Tree for Cleaning and Disinfecting: Public Spaces, Workplaces, Businesses, Schools, and Homes


OCDEL Webinar: Child Care During COVID-

19 and Reopen

ing Child Care, May 6, 2020



Sources for Cleaning Supplies and Personal Protective Equipment (PA DCED)
The Department of Community and Economic Development has created a website to connect Pennsylvania businesses with those businesses able to meet supply requests. If you do not have an identified source of cleaning supplies or PPE these vendors may be able to help.

CDC Guidance for Child Care Programs that Remain Open (4-21-2020) printable version.

Guidance for Reopening Buildings After Prolonged Shutdown or Reduce Operation (CDC)

Guidance for Cleaning and Disinfecting: Public Spaces, Workplaces, Businesses, Schools, and Homes (CDC)

Cleaning and Disinfecting Your Facility (CDC, 4/1/2020)

Guidance for Child Care Providers Caring for Children of Essential Personnel During COVID-19 (OCDEL)

For Child Care Programs That Remain Open: Supplemental Guidance (CDC)

Coronavirus: What Child Care Providers Need to Know (Child Care Aware)

Is it Coronavirus, Flu, Cold or Allergies? (CDC)
The Families First Coronavirus Response Act (FFCRA or Act) requires certain employers to provide employees with paid sick leave or expanded family and medical leave for specified reasons related to COVID-19. The Department of Labor's (Department) Wage and Hour Division (WHD) administers and enforces the new law's paid leave requirements. These provisions will apply from the effective date through December 31, 2020.CORONAVIRUS EMERGENCY LOANS: Guide and Checklist for Small Businesses and Nonprofits ( U.S. CHAMBER OF COMMERCE)

Pennsylvania Community & Economic Development: COVID-19 Resources for Businesses, Communities, and Local Governments (DCED)

UC Benefits & COVID-19 FAQs (PA Department of Labor & Industry, Office of Unemployment Compensation)

COVID-19 Guide: Scenarios & Benefits Available


(UC.PA.GOV)



Philadelphia Emergency Fund for Stabilization of Early Education (PEFSEE) FAQ (William Penn Foundation, Vanguard, Reinvestment Fund)

F.A.Q. on Stimulus Checks, Unemployment and the Coronavirus Plan (The New York Times)

SAMPLE COVID-19 Child Care Policy & Procedure Examples:


CDC Decision Tree for Child Care Providers


CDC Decision Tree for Youth Programs and Camps


Child Care Centers with Waivers to Open for Essential Personnel Searchable Database (PA DHS)

Can Providers Require Parents to Pay During This Crisis? (Tom Copeland)

Pennsylvania Government Services Directory

OCDEL Announcement ELRC-20 #10
Child Care Works Payment for Child Care Providers Closed Due to a Positive COVID-19 Case (7/21/20)

OCDEL COVID-19 FAQ
Provides information for those within the child care setting relating to face coverings, COVID-19 Health and Safety Plan Template, child care employees returning from other states, and more (7/20/20)

OCDEL Announcement ELRC- 20 #11
Effective September 1, 2020, CCW payments will return to payment practices and policies based on attendance and invoicing for all children, regardless of when the child was enrolled with the provider (7/17/20)


OCDEL Announcement C-20 #08
The announcement identifies which elements of the CDC Guidance are now citable under 3270.21, 3280.20, and 3290.18, all pertaining to "general health and safety" beginning July 17, 2020. NOTABLE: Requires staff to wear masks. (7/10/2020)

OCDEL Announcement C-20-06 Revised
This revised version of C-20-06 includes updated information related to face coverings and corrections to text in the original announcement. (7/8/2020)

OCDEL Announcement ELRC-20 #09
Child Care Works Payment Modifications Due to Impacts related to Novel Coronavirus (COVID-19) replaces ANNOUNCEMENT ELRC 20 #08 (6/25/20)

OCDEL Announcement C-20-06 Reopen Guidance for Child Care Providers during COVID-19 (6/23/2020)


Clarification of Closure Notices and Child Care: Wednesday, March 25, 2020 (OCDEL, The Bureau of Certification)
Resources and Recommendations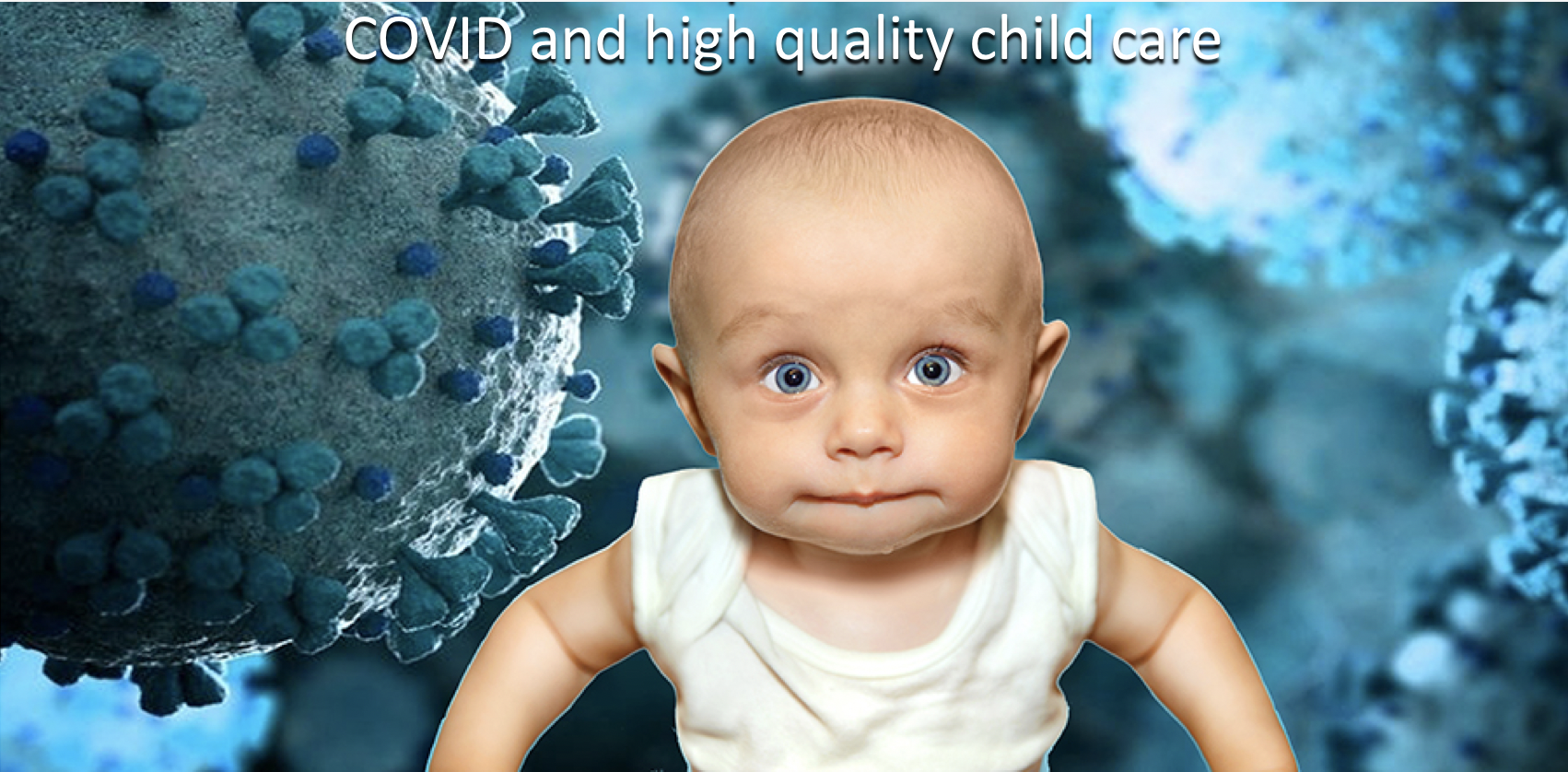 FOR FAMILIES: Facts About COVID-19 and High-Quality Child Care
(9/3/2020)
This session will feature Susan Coffin, MD, MPH, Children's Hospital of Philadelphia's leading expert on COVID and a great resource in creating CHOP's FAQ for centers and for families; and child care providers from both center-based and home-based settings.
Every week we learn something new about COVID-19 and children. Child care is highly regulated in PA and the Office of Child Development and Early Learning (OCDEL) has responded with updated regulations and guidelines to keep children and providers safe. However, some of these are suggestions, not requirements; some clash with best practices for child development, and some are difficult to implement with very young children. Learn about pros and cons of different child care settings, what to expect from child care providers, and which questions to ask.
https://youtu.be/8soQzpUOplQ
Handouts:
Questions to Ask Your Child Care Provider: A Checklist for Parents, Guardians & Families
FAQ: Returning My Child to Child Care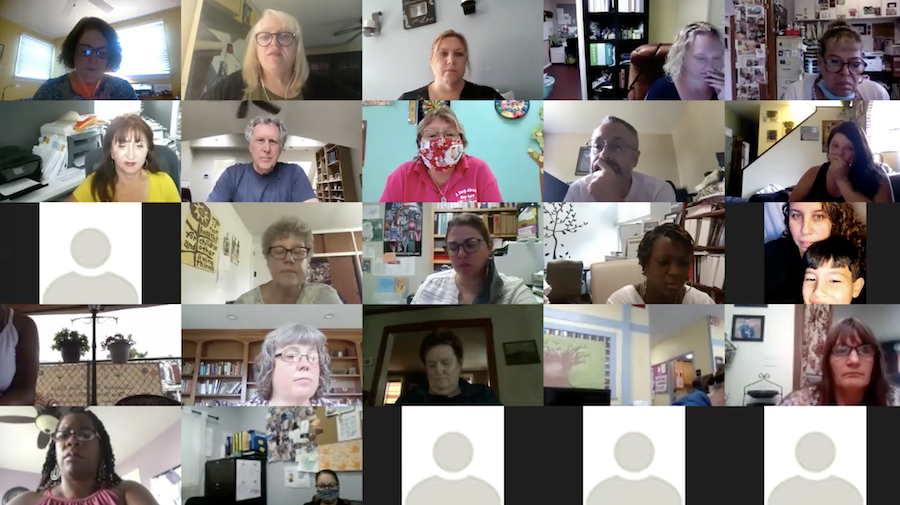 What About the School-Agers? A Zoom Conversation
(7/17/2020)
School Districts are presenting their reopening plans and it is creating lots of questions about what happens to school-agers as a result. What are some of the questions that we need answered as families turn to child care programs for support? In this conversation, PACCA members share their questions so we can begin to identify strategies and solutions to the needs of children, their families, and child care programs.
https://youtu.be/aFz1cxgvT34
FocusHRO: Carrier Coverages, Unemployment Rules, & Employer Documentation
HR Specialist Linda Hostetter and FocusHRO Founder & CEO Sam Boore will talk about concerns that are on your mind right now. Topics addressed will include Unemployment Compensation and the Federal CARES Act, employee benefits in a time of furloughs and layoffs, and documentation requirements under the Families First Coronavirus Response Act (FFCRA).
FocusHRO is a PACCA Shared Services Partner.
YOUTUBE:
https://youtu.be/c1S7K0ZDYdY
Handouts:
FocusHRO: Carrier Coverages, Unemployment Rules, & Employer Documentation PPT Notes (pdf)
Families First Coronavirus Response Act (FFCRA or Act) English (pdf)
Families First Coronavirus Response Act (FFCRA or Act) Spanish (pdf)
UC-1921W Refusal of Suitable Work (pdf)
Request for FFCRA Family Medical Leave (doc)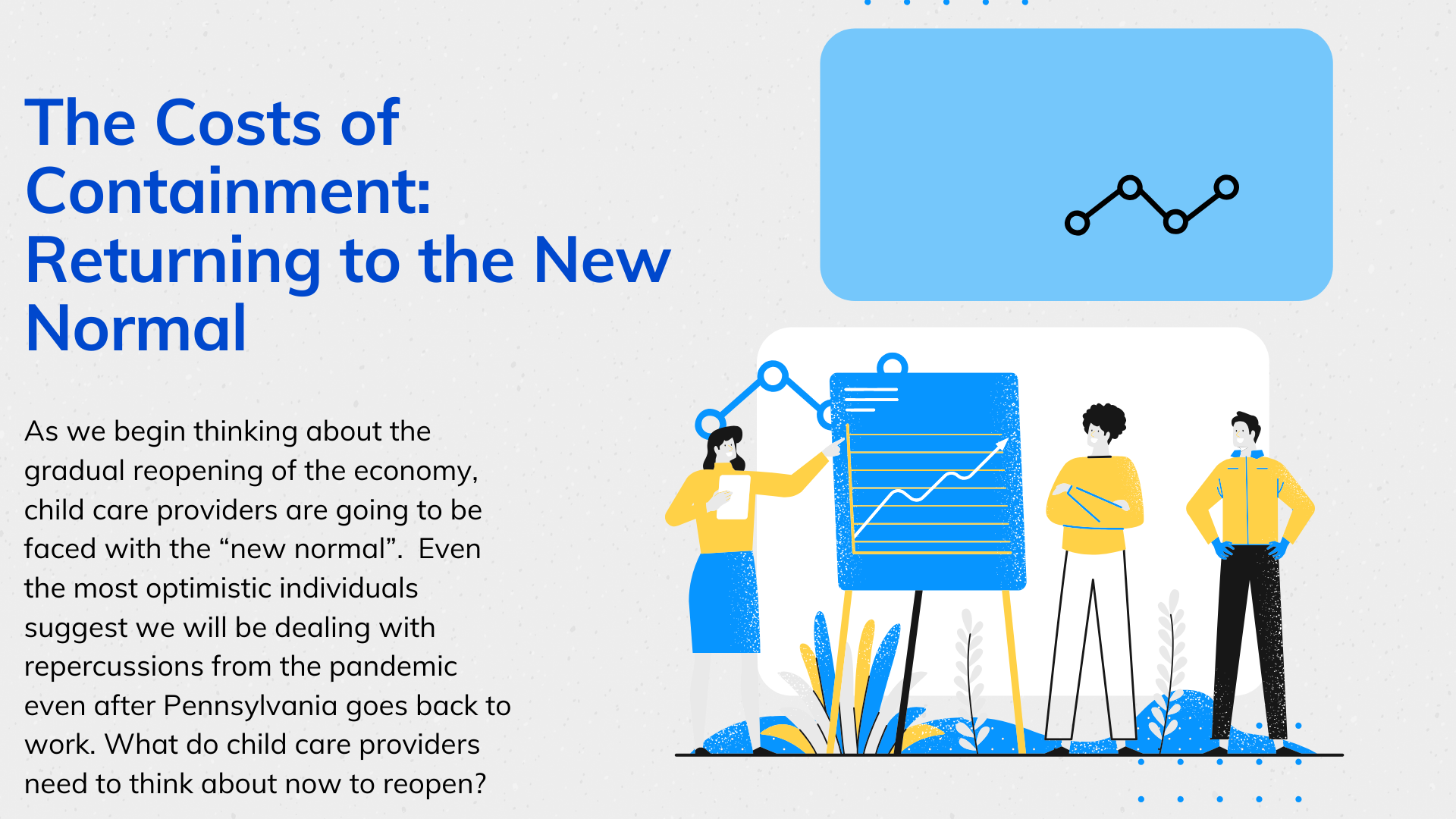 The Costs of Containment: Returning to the New Normal (5/1/2020)
As we begin thinking about the gradual reopening of the economy, child care providers are going to be faced with the "new normal". Even the most optimistic individuals suggest we will be dealing with repercussions from the pandemic even after Pennsylvania goes back to work. What do child care providers need to think about now to reopen? What lessons can we learn from our colleagues who continued to serve essential personnel at the height of the pandemic? What has been the most challenging, what lessons have they learned, how has this impacted their budgets, how do they think this has changed child care going forward? YOUTUBE:
https://youtu.be/PV2e-afiquQ
Handouts:
The Costs of Containment: Returning to the New Normal
Webinar PowerPoint (pdf)
Sample Parent Surveys (Word)
CDC Guidance for Child Care Programs that Remain Open (4/21/2020) (pdf)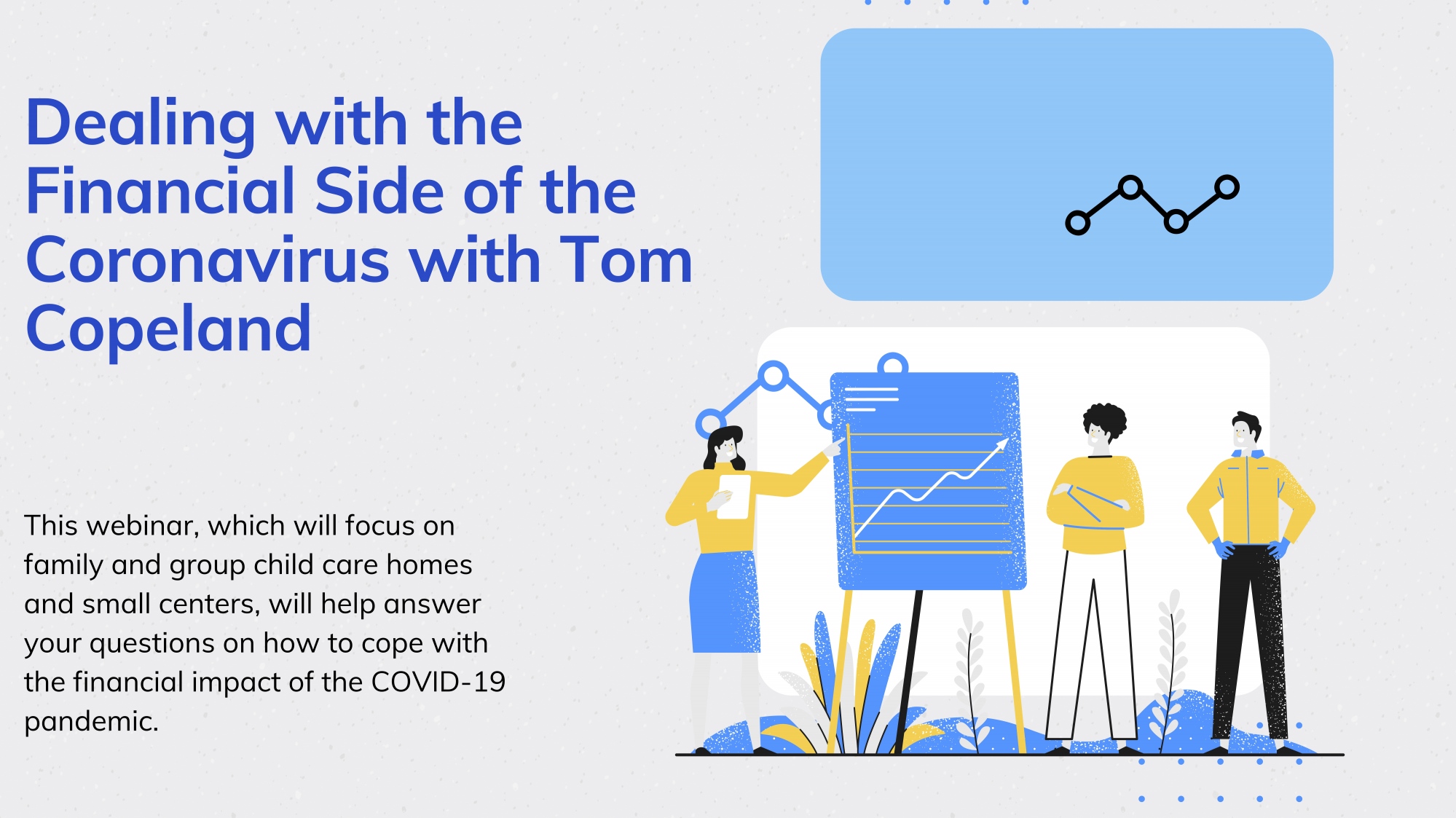 Dealing with the Financial Side of the Coronavirus with Tom Copeland (3/31/2020)
This webinar focused on family and group child care homes and small centers answered questions on how to cope with the financial impact of the COVID-19 pandemic. Tom Copeland is a licensed attorney who has presented hundreds of business workshops for child care providers across the county for almost 40 years. A recognized leader in the field, he was director of Redleaf National Institute for 15 years and has written nine books on the business of family child care.
YOUTUBE:
https://youtu.be/I_7vYH7kjfQ
Handouts:
Dealing with the Financial Side of the Coronavirus with Tom Copeland POWERPOINT SLIDES
(pdf)
---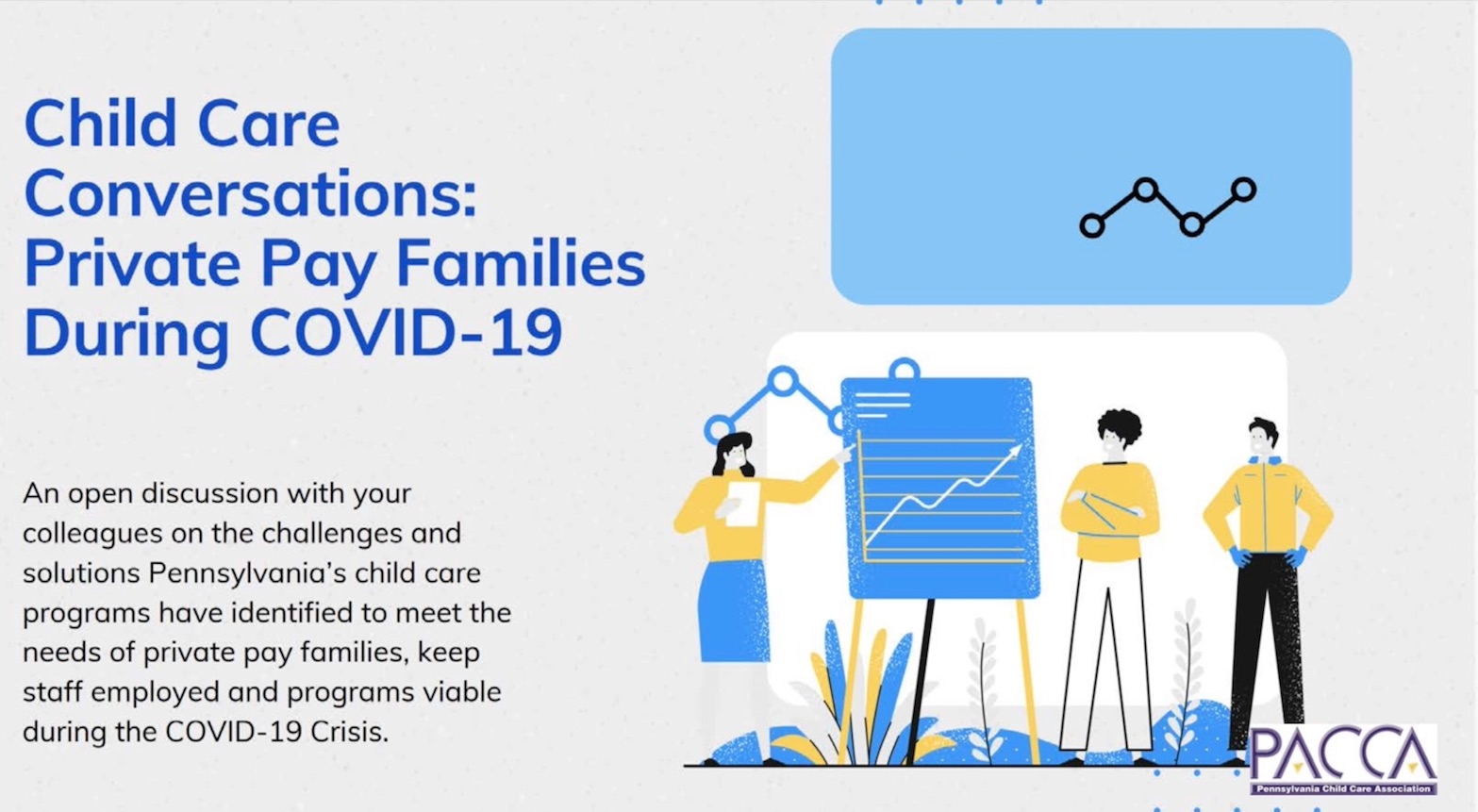 Child Care Conversations: Private Pay Families During COVID-19 (3/20/2020)
An open discussion with your colleagues on the challenges and solutions Pennsylvania's child care programs have identified to meet the needs of private pay families, keep staff employed and programs viable during the COVID-19 Crisis.
YOUTUBE:
https://youtu.be/lPvJ2w1P29Q
OPEN or CLOSED: Child Care and COVID-19
Governor Tom Wolf's closure of non-essential, non-life-sustaining businesses in order to mitigate the spread of COVID-19 established who is essential personnel. This list includes health care providers, emergency response personnel, grocery store employees, and home care workers, among others. Although
child care centers and non-residential Group Child Care Homes were directed to close under the Governor's order
, child care will be essential to personnel with young children to perform their duties.
Do you typically serve families who might be considered essential personnel and want to apply for a waiver?
Child care programs seeking a waiver from the commonwealth's temporary closure order, except those operating in Philadelphia, should complete the Exemption of Directive to Temporary Close form available
here
. Completed waiver forms should be emailed to OCDEL at RA-PWDRACERT@PA.GOV. Child care certification staff will respond to requests as quickly as possible. Email subject line should read, "Waiver Request – (Insert County Name)."
Providers who have already submitted applications should not resubmit or send additional requests to the RA-PWDRACERT@PA.GOV account.
Questions? Call OCDEL at 1-877-4-PA-KIDS or contact your Child Care Certification Representative.
Group Child Care and Family Child Care operating in a residence have been permitted to operate without a waiver. The decision to remain open or not is at the discretion of the individual operator. This flexibility is due to the smaller number of children they serve, their knowledge of enrolled families, and the ability to assess families' health as they are dropping off and picking up children.