Voices From the Field
T.E.A.C.H. offers early childhood professionals a debt-free higher education, supporting them while they work to become stronger teachers and earn thriving wages. T.E.A.C.H. scholars are not your typical college students. Their average age is 34. Half are first-generation college students. The majority are women, half are women of color, and almost one third are single parents. Most are working full time and make less than $29,000 a year.

In addition to significant financial support, T.E.A.C.H. provides scholars with critical resources to help them stay on track academically and meet their goals. T.E.A.C.H. counselors help scholars navigate challenges in their personal life, career, or at school. Employers provide paid release time for scholars to take classes and complete course work during the day so they can care for their own families at night.

T.E.A.C.H. has a multi-generational impact. By being the first in their family to go to college, many T.E.A.C.H. scholars raise the expectations for their children and increase the likelihood that they will go to college.

Voices from the Field shares the stories of T.E.A.C.H. scholars and the impact the program has had not only on their education and wages but also in their personal and professional lives.
Jameelah Jones always knew she wanted to be a teacher. Her journey from babysitting her nieces and nephews in her living room to becoming the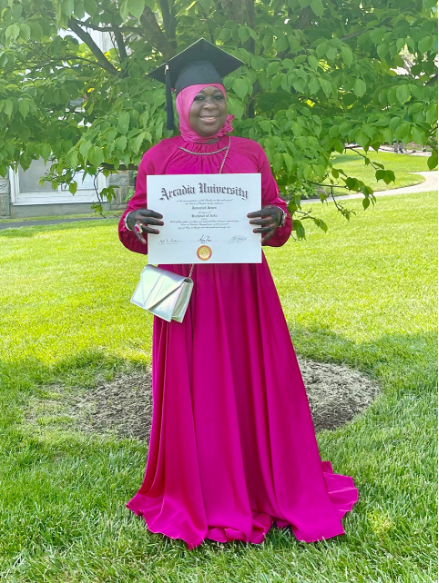 Lead Teacher of a pre-school classroom has been challenging, but she never gave up her dream. Jameelah started worked at the Parent Infant Center (PIC), a STAR 4 facility in Philadelphia, in 2011 and began pursuing an associate degree in 2012. Her plans were sidelined when she was diagnosed with breast cancer in 2013 and had to take a leave of absence. When she returned to work in 2014, Jameelah learned that her center now required she have an associate degree to continue working in her position.

Jameelah re-enrolled at Community College of Philadelphia (CCP) and began paying her own way to take night classes but returning home to her teenage daughters at 11pm became too stressful. Then she learned about T.E.A.C.H. and in 2015 she started on an accelerated track to earn her associate degree and receive on-the-job training and mentoring through the 1199C Apprenticeship program.

"Before T.E.A.C.H., I had taken out $10,000 in loans and was trying to take classes after working all day," Jameelah says. "Being able to work part of the day on schoolwork and classes made a huge difference in my life and my kids' lives." In 2019, seven years after starting, Jameelah earned an Associate Degree in Early Childhood Education at CCP. In April 2022, she graduated from Arcadia University with a Bachelor's in Early Childhood Education and was promoted to Lead Teacher.

"I'm 55 years old, a breast cancer survivor, a first-generation college student who has achieved her bachelor's and now I'm working toward a Teaching Certificate. I've done more than I thought possible, and I believe there is even more to come." Following in their mother's footsteps, Jameelah's daughters are both enrolled in college.