Organize & Mobilize
"Never doubt that a small group of thoughtful committed citizens can change the world. Indeed, it's the only thing that ever has." Margaret Mead
It starts with one voice. The more voices saying the same thing is even more powerful than one voice, no matter how expert.
Our businesses, our communities, and ultimately our country's future, al lead back to our children. Overwhelming research shows that our future will be based upon their early childhood years.
Why is advocacy important? Because public policies at the national, state, and local levels have a tremendous impact in the financing and quality of early childhood care and education, on reimbursement and compensation of professionals and service providers, and supporting the system of infrastructure needed to deliver quality programs for all families and their children.
PACCA keeps current and informs its members on state and federal policy and legislation affecting child care PACCA communicates to the media. Community leaders and the public the importance of quality child care.
Advocating: Your Voice on the Hill
Advocating for our members and promoting the value of high quality early care and education to legislator and policymakers is an important priority for PACCA.
Hot Issues
State Budget & Policy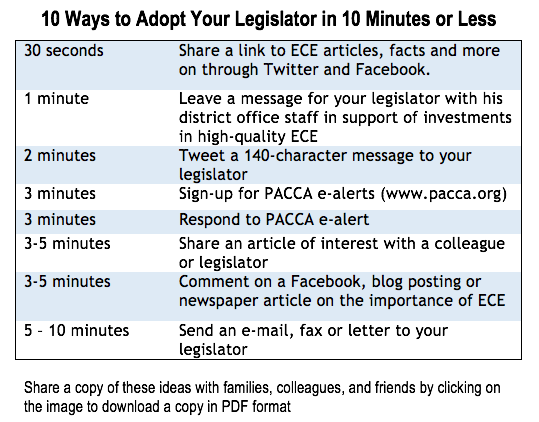 Federal Budget & Policy
Organizing & Mobilizing: The PACCA Community & Partners
PACCA's membership are a grassroots advocacy network that calls, emails, writes, and meets with their state and federal policymakers on behalf of early care and education. PACCA collaborates with regional, state, and national organizations to promote sound public policy investments in early care and learning.
PACCA Legislative Action Center
You can make a big difference in just 5 minutes. That's all it will take to learn the issues and send a letter to your elected officials. The actions of our government have an enormous impact on the future of our children and history teaches that every vote can matter. To easily communicate with your elected officials and find out where they stand on the issues, visit our
Legislative Alert Center
.
Communicating: Connecting Legislators to Constituents
Through its online advocacy tool, PACCA members can respond to advocacy alerts, identify their local legislators and send tailored messages to state and federal policymakers. You can contact your local, state, and federal policymakers
HERE
.