Start Strong PA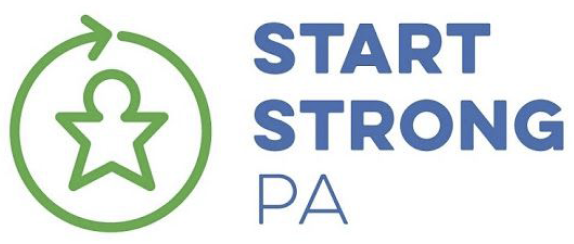 Visit the Campaign Website at startstrongpa.org
About Start Strong PA
Start Strong PA is a statewide advocacy campaign to increase access to affordable, high-quality child care for Pennsylvania's families and their children through policy and investment, starting with infants and toddlers.
Sign on with your support at
https://www.surveymonkey.com/r/StartStrongPA-1


Start Strong PA is connected to Early Learn
ing PA
Early Learning PA (ELPA) is a broad-based coalition that advocates access to voluntary, high-quality early learning opportunities for all Pennsylvania children. ELPA's public policy agenda focuses on four key components of early learning opportunities: pre-kindergarten, child care, home visitation, and early intervention. The ELPA coalition supports targeted campaigns dedicated to advancing its early learning agenda including
Pre-K for PA
and
Childhood Begins at Home
.
Learn More About the Campaign
Learn more about the campaign at
www.startstrongpa.org
.
On November 1, 2018, Jodi Askins, Executive Director of PennAEYC and Diane Barber, Executive Director of the Pennsylvania Child Care Association (PACCA) hosted two, 1-hour introductory webinars on the Start Strong PA.
Join the Start Strong PA Campaign
The Start Strong PA Campaign officially launched on January 29, 2019! Sign on with your support at
https://www.surveymonkey.com/r/StartStrongPA-1