PACCA News
March 2020
Day care operators confused over state directives; reopening on hold
3/28/2020 | Joe Napsha, Tribune Review


Concern over changes in state rules and recommendations guiding child care centers amid the coronavirus scare — and worry over their liability if a child in their care becomes ill with Covid-19 — have kept some closed after obtaining state waivers to remain open.

"They have been confused and frustrated. It's a mess," Diane Barber, executive director of the Pennsylvania Child Care Association, said of the situation.

Pennsylvania child care centers at 'breaking point' due to mandated COVID-19 closures
3/24/2020 | Kate Giammarise, Pittsburgh Post-Gazette
Child care providers throughout Pennsylvania — most of which have been temporarily closed since last week — say they might not be able to reopen for business without direct and immediate state aid, should the closure last beyond a month. About one-third of the agencies that responded to a survey by the Pennsylvania Child Care Association said they would not be able to reopen if the state-mandated closure lasts beyond a month. That will harm any economic recovery, they said. "It will be impossible for Pa.'s economy to rebound with one-third less childcare capacity," said Diane Barber, executive director of the Pennsylvania Child Care Association, on Tuesday.
Child care centers say coronavirus has them on brink of shutting
3/24/2020 | WHYY
A coalition of Pennsylvania child care providers called for major new public subsidies Tuesday, saying many are on track to close permanently due to losses stemming from the coronavirus shutdown. A new survey by the Pennsylvania Childcare Association of 605 providers shows that nearly one-third of respondents expect to never reopen again if the statewide shutdown lasts for more than a month.

Childcare providers seek $100M in aid to ride out COVID-19 pandemic
3/24/2020 | Elizabeth Hardison, Pennsylvania Capitol-Star
A coalition of advocates on Tuesday asked state lawmakers to authorize more than $100 million in stimulus aid for the state's ailing childcare sector, which they say could collapse as the COVID pandemic disrupts business and employment across the Commonwealth. A survey of more than 600 childcare centers by the Pennsylvania Child Care Association, a non-profit industry trade group, found that one-third of them expect to go out of business if the state-mandated shutdown lasts more than a month.
Child care sector facing 'potential collapse' without new policies, advocate says
3/19/2020 | Bill Hangley, WHYY/The Notebook
The child care sector, already vulnerable, is being dangerously disrupted by the ongoing coronavirus crisis and faces potential collapse without a substantial influx of cash and an updated set of policies. The questions for providers involve more than finances. "What if you're open and a child or adult contracts the virus? There's a business liability," said Diane Barber, executive director of the Pennsylvania Child Care Association, in a recent interview.
Pa. child care providers dealing with 'a lot of really, really sleepless nights and hard decision
3/19/2020 | Ed Mahon, PA Post
Child care providers across Pennsylvania face a choice in response to the state's efforts to halt the spread of the coronavirus: Close their doors, or seek permission to stay open. Both options present risks.PACCA Executive Director, Diane Barber notes, "This is a field that works on thin margins", a reference to the fact that many providers don't make much in profit and may not have a cash cushion to wait out the closure orders.
Are Child Care Centers 'Essential' Businesses?
3/18/2020 | PA Post
Diane Barber, executive director of the Pennsylvania Child Care Association, notes that Governor Wolf's directive to close nonessential businesses has put pressure on child care providers across the state. She said many of her members were left "confused, frustrated and afraid" after his announcement Monday that child care should close statewide.

January 2020
Big bucks for child care: Families who don't qualify for assistance say they need help
1/28/2020 | Joel Wolfram, WHYY
Challenges faced by families who do not qualify for child care subsidies. Diane Barber, PACCA Executive Director, cites the increase in Federal funding, but the cut in state funding in FY 19-20. "Barber said the $36 million the state cut from its child care budget would have been enough to clear the waiting list and then some."
October 2019
Meet this Year's Award Winners
On October 22, 2019 PACCA presented three awards to individuals who were nominated by their peers as exceptional examples of early childhood educators and administrators.
Nicole Belski, Educator of the Year – Center-based
Nicole has worked in this field for nearly 20 years. She is currently the Pre-K Counts teacher at Duck Hollow Discovery Learning Center in Uniontown. She started caring for infants while attending college and caring for her own child. She quickly attained her A.A. in Early Childhood and moved on to receive a B.S. in Early Childhood and Special Education as well as her certification in both areas. It was noted in her nomination that she has had a positive impact on her program's students and their families and even though she gets praised by our parents, teachers, and director often, this award would solidify that her efforts are noticed and her dedication is unsurpassed.

Karen Corrigan, Educator of the Year – Home-based
Karen has been in the field for over 31 years. She is owner/operator of Karen Corrigan's Preschool in Honesdale. In 2008, she became the first STAR 4 group child care home in the Northeast Region and the first STAR 4 program in her county. She is considered an advocate for children and families. Karen is an active member of the Wayne County Children's Coalition. She quickly was recognized as a leader in her local early childhood community and was recruited by the Wayne County Cooperative Extension Family and Consumer Sciences Educator to serve as a mentor and instructor for other family child care practitioners in Wayne County and the Northeast Region.

Becky Flaherty, Award of Excellence
Becky is the Executive Director of Shady Lane in Pittsburgh. With more than 20 years of experience in the non-profit field and a Master of Science in Professional Leadership, Becky has raised millions of dollars and provided strategic direction for organizations that have served some of the most under-resourced populations in Pittsburgh and nationally. Becky is responsible for ensuring that the organization's 50-year mission and vision are carried into the next 50 years by managing and developing resources, developing strategy and providing high-quality programming for children in a diverse and inclusive environment that focuses on social-emotional health, arts and play.
October 2018
Meet this Year's Award Winner -- Denise Cressman
At this year's Early Childhood Education Summit on October 16, 2018, for the first time, PACCA presented a combined Award of Excellence and Educator of the Year Award to Denise Cressman. Denise has been in the field for over 30 years and currently operates a STAR 4 family child care home in Danville, PA. Each year PACCA asks its members to nominate their colleagues, those they feel have contributed to the early care and education profession. Denise
February 2018
Child Care for Working Families Act
In February, PACCA collected 450 individual signers which were added to the names collected by PENNAEYC and PPC. Pennsylvania was well represented on a national petition by 870 total signers urging Congress to support the Child Care for Working Families Act. The petition drive was coordinated by the National Women's Law Center in DC. PACCA's name was included in the press release.

CCDBG in the Omnibus Budget Bill
In January, PACCA gathered 175 signatures to a letter in support of increased funding for the Child Care and Development Block grant. Our signatures were added to those collected by PENNAEYC resulting in 220 organizational names sent on a sign-on letter to the Pennsylvania Congressional Delegation.

Thank You Letter to Senator Casey
PACCA joined other members of the Early Learning Pennsylvania Coalition in a letter thanking Senator Casey for his leadership around increased funding for CCDBG.
January 2018
Conversations with Child Care Certification
Did you know that providers and advocacy organizations including PACCA, have been meeting with OCDEL Certification Staff for the last year to address some of the challenges and concerns of providers? One of the outcomes of these regularly scheduled Conversations with Certification was the OCDEL Certification Self-Assessment Checklist. The checklists for regulated providers can be found here - http://www.pakeys.org/…/certific…/self-assessment-checklist/.

Did you miss the OCDEL webinar introducing the new Certification Self-Assessment Checklist? The new checklist can help you and your staff prepare for your OCDEL certification rep's visit. The webinar can be view here. https://www.youtube.com/watch?v=3Wn4fB9a7ik&feature=youtu.be.


December 2017
PACCA Surveys Members on New Fingerprinting Vendor
Are you or your staff having challenges obtaining Pennsylvania's Federal Bureau of Investigation (FBI) fingerprinting since Pennsylvania engaged a new vendor IDEMIA? We want to hear from you https://www.memberleap.com/members/form.php?orgcode=PCCA&fid=2495003.
October 2017
PACCA Elects New Board Members
Beginning in January, the PACCA Board of Directors will welcome three new members. Thank you to all members who voted in this year's elections for the open At-Large Position to the PACCA Board. Filling that position will be Christy Renjilian, Executive Director of Child Care Consultants in York. Child Care Consultants is the Mid State Regional Key, the CCIS of York County, a CACFP sponsor and United Way of York County partner agency. Christy has nearly 30 years of experience working with early childhood education programs.

Also joining the PACCA Board is Damaris Alvarado , owner and the Executive Director of two high-quality STAR 3 & 4 centers, the Children's Playhouse Early Learning Centers and Cookie's Day Care Center in Philadelphia. She is a partner with the Philadelphia School District as a Head Start and Pre-K Counts provider. She is also a recipient of the Mayor's Office of Education PHLpreK program.

Another new Board member is Aliya Johnson-Roberts , Executive Director of Pratt Street Learning Center in Philadelphia. In partnership with her mother, they opened Pratt Street Learning Center in 2008. She has put all her efforts into building a program that caters to children and their families in the community. She has been a member of PACCA since 2010.

We hope members will join us in welcoming our new members to the PACCA Board of Directors.

Meet this Year's Award Winners
Each year PACCA asks its members to nominate their colleagues, those they feel have contributed to the early care and education profession. We received 23 nominations for the two awards this year all demonstrating extraordinary talents, gifts and commitment to the field. Awards were presented at the Early Childhood Summit on October 17, 2017.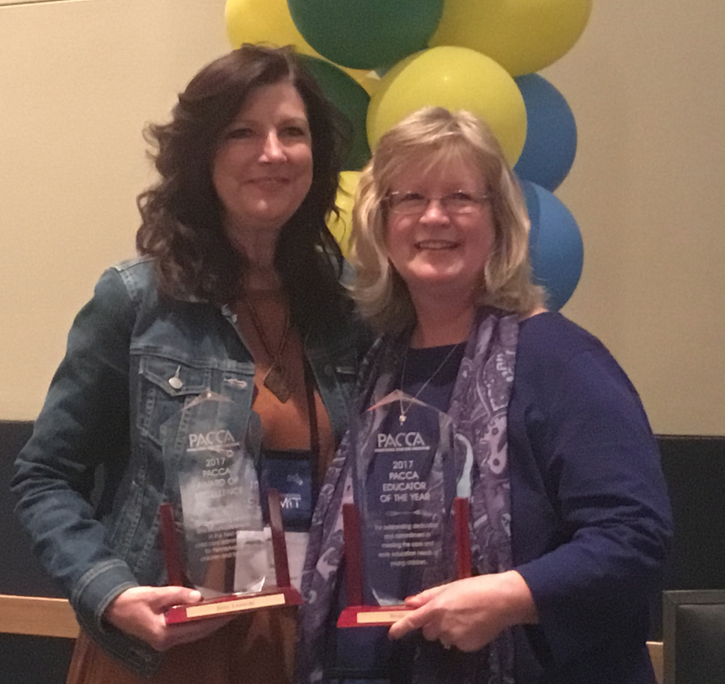 The Award of Excellence honors the director or administrator for outstanding service and accomplishments in management of a program. This year's award was presented to Betty Lisowski (photo right, left) who has been working in the field of early childhood education for over 36 years, and for the past 20 years as the Director of the non-profit Riverview Children's Center in Verona, PA. The center has maintained NAEYC accreditation continuously since 1987, and has earned and maintained a STAR 4 designation in Keystone STARS. They have also been a PA Pre-K Counts provider for 10 years. PACCA received 17 letters of support. There were so many letters, in fact, that we decided that the best way to find out the top themes was to use a word cloud – the words used most frequently by the letter-writers were "Children," "Staff," and "Always."

Because of our outstanding nominations this year, the committee selected two nominees to receive the Educator of the Year award. Moving forward, PACCA will be annually recognizing both a home-based educator and center-based educator. The Educator of the Year honors an individual for their outstanding service and accomplishments in the classroom. Selecting an individual to represent the best in these categories is a challenging task because so many are deserving of recognition.


The Educator of the Year award was presented to Bridget Heinl (photo above, right) of Bridget Heinl Family Child Care Home in Hershey. She has more than 31 years of experience in the early care and education field. She has worked at a before & after school program, a nursery school, child care centers, and has operated family child care homes in two different communities in Central Pennsylvania. Her program is accredited by NAFCC (National Association for Family Child Care) and has been designated STAR 4 in Keystone STARS. The nomination and support letter-writers emphasized her dedication, her warmth, and her support of other early care providers.

The Educator of the Year award was also presented to Joanne Woodburn of Summit Children's Program in Philadelphia (photo, left). She has 30 years of experience - 23 of them at the same program. Joanne was recently promoted to Nature Instructor at Summit Children's Program because she is so passionate about getting children outdoors.

PACCA acknowledges and applauds the tremendous work that all the award winners and the nominees have accomplished.

T.E.A.C.H. Pennsylvania Mentioned in Article in The Atlantic
T.E.A.C.H. Pennsylvania was mentioned in an October 26, 2017 article in The Atlantic . The article "The Crisis Facing America's Preschool Teachers" discusses how efforts to fill centers with better qualified early-childhood workers are threatening the jobs of those who can't afford to get their college degree and how some states are turning to apprenticeships to solve both problems at once. The article highlights the Philadelphia Apprenticeship program. https://www.theatlantic.com/education/archive/2017/10/the-crisis-facing-americas-preschool-teachers/544002/
---
July 2017
Childcare in the age of social media: What to know about regulations and Craigslist ads
PACCA Executive Director, Diane Barber talks to CBS21 about finding and selecting child care. View the clip HERE.

Conversations with OCDEL Certification Continue
On July 26th, PACCA and other child care advocates met again with members of the OCDEL leadership team and Certification staff to discuss ways to increase communication and transparency between Certification and providers. Customer service surveys currently being used in Colorado, Georgia, and Wisconsin were reviewed. A Pennsylvania customer service survey was discussed and drafted that would be sent randomly to providers following visits by Certification Representatives. Additionally, the group reviewed a certification compliance checklist, a document that parallels the template used by Certification Representatives during their visits, that would be a tool for programs to assess their readiness and compliance to regulations. The group will review again at its next meeting. PACCA proposed that OCDEL develop a manual outlining the appeal process for citations, issuance of provisional certification, etc. at its next meeting.
---
June 2017
PACCA Responds to Member Revenue Department Questions: Results in Conversation with OCDEL, Revenue Department & Advocates
In late May, PACCA began receiving calls from members concerned about a "joint venture" between the Office of Child Development & Early Learning (OCDEL) and the Revenue Department resulting in audits of child care providers. There appeared be significant confusion regarding what initiated these actions and if child care providers were being targeted for particular reasons. After reaching out to OCDEL with a series of clarifying questions, a conversation was convened between OCDEL, the Revenue Department and advocates on June 29th.

OCDEL has partnered with the Department of Revenue to ensure tax obligation compliance for Keystone STARS entities and providers since 2008. Although this is not a new process, recent changes from a manual process to an automated and proactive compliance check has increased efficiency and outreach. In the last year, the Revenue Department reviewed information on 2,400 providers participating in Keystone STARS and receiving funding or awards. This review was to ensure that they were compliant with reporting and remitting business taxes. Revenue found nearly 750 were potentially non-compliant. Upon their review, over 220 were found compliant; however over 500 cases are not resolved. The intent of the review is to prevent tax non-compliance issues from becoming tax liens/liabilities. Keystone STARS providers with outstanding liens/liabilities are suspended.

PACCA encourages members with questions about employer tax liabilities, income tax questions, etc. to review the Revenue Department's guide "Starting A Business in Pennsylvania: A Beginners Guide" (http://www.revenue.pa.gov/formsandpublications/formsforbusinesses/documents/rev-588.pdf); visit the Revenue Department's website; and/or consul with a tax professional.
---
May 2017
ECE Caucus Briefing on Child Care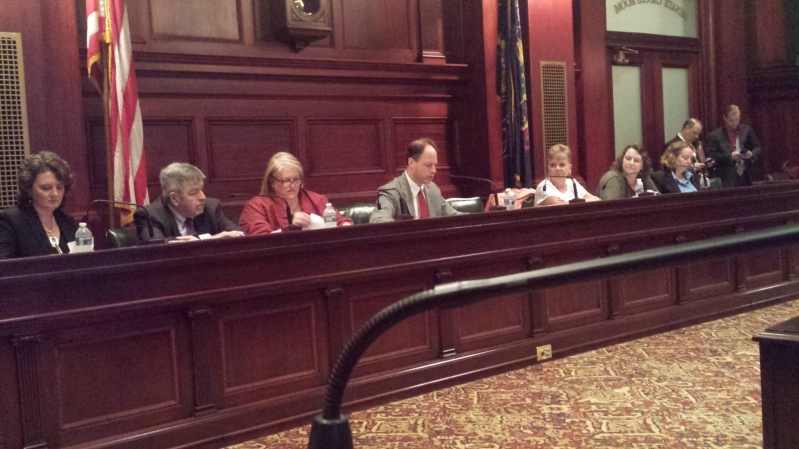 April 26, 2017, PACCA Board member John Hogan, Executive Director of Coordinated Child Care Services of Northeast Pennsylvania and PACCA Executive Director, Diane Barber joined colleagues from Early Learning PA, Early Learning Investment Commission, and the Office of Child Development & Early Learning at a briefing for PA's Early Childhood Education Caucus on child care issues.

Photo, from left ... Carey Harris, ELIC; John Hogan, Coordinated Child Care Services of NE PA; Diane Barber; Rep. Mark Longietti, ECE Caucus Co-Chair; Denise Cressman, PA Home-Based Child Care Providers Association; Jodi Askins, PennAEYC; Becky Mercatoris, OCDEL.

OCDEL and Advocates Talk Certification Concerns
OCDEL met with PACCA and other child care advocates on April 18, 2017, to begin an ongoing conversation aimed at supporting solution-based communication and feedback between providers, stakeholders, and Certification staff. The group exchanged strategies for changes to system practices and opportunities for improvement, especially around the uniform and consistent application of certification regulations. While individual situations between providers and Certification were not discussed, the dialogue did explore ways to support better understanding of the laws and regulations, as well as possibilities and limitations for system change. The conversation was facilitated by Laura Johns and Christopher Sleeme, Propulsion Squared, who have been working with OCDEL and stakeholders on PA's STARS Revisioning efforts.

PACCA Responds to House Budget Cut to Child Care
PACCA asks ... If they're really pro-family, lawmakers should restore this harmful child care cut
In an Op Ed in the 4/5/2017 issue of the Patriot News, Diane P. Barber, Executive Director, PACCA addressed the proposed $28 million budget cut made in HB 218, the House budget proposal for FY 17-18. The House budget would cut existing levels of child care funding. OCDEL projects the waiting list would increase to 25,000 children by the end of September 2017 with the average wait rising to nearly one year. As Barber asks in her Op Ed, "Why is it so hard to convince policymakers and others to invest in child care? High-quality child care is where early learning takes place. We have to overcome this "blind spot" that helping families work and care for their children is somehow feeding into an increased reliance on government." Read more at http://bit.ly/2pQzkqX
---
February 2017
Support for parents seeking child care | 2/24/2017 | http://bit.ly/2mFD4JB
In an article appearing in the February 24, 2017 edition of the York Dispatch, Diane Barber, Executive Director of the Pennsylvania Child Care Association, was quoted: "the availability, or lack thereof, of affordable high-quality child care in the state will have economic consequences now and in the future. Child-care providers allow today's parents to continue working and providing for their families, but high-quality child care can give today's children a better chance in "tomorrow's workforce." "If we want to build our economy, we need workers," Barber said. "We need today's workforce, and we need tomorrow's workforce."