Pennsylvania One Book, Every Young Child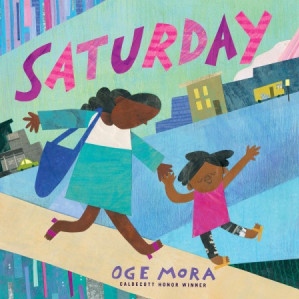 One Book, Every Young Child
is a valuable program that highlights the importance of early literacy development in preschoolers and the significance of reading early and often to children, as well as engaging them in conversation and other activities around books.
The program has remained successful in part due to the partnership of collaborating agencies that all support early childhood literacy efforts. They worked together to develop this multifaceted program which is accessible to all areas and populations of the state. The PA One Book selection for 2022 is
Saturday
. Written and illustrated by Oge Mora, the book was published in 2019 by Little Brown & Company Books for Young Readers.

Overview
In this heartfelt and universal story, a mother and daughter look forward to their special Saturday routine together every single week. But this Saturday, one thing after another goes wrong–ruining storytime, salon time, picnic time, and the puppet show they'd been looking forward to going to all week. Mom is nearing a meltdown…until her loving daughter reminds her that being together is the most important thing of all.
More information coming soon!
For more information and material on this year's selection and other literacy resources visit
One Book, Every Young Child
.
One Book, Every Young Child is made possible through a collaboration of the Pennsylvania Department of Education, Pennsylvania Department of Human Services, Pennsylvania Department of Conservation and Natural Resources, The Carnegie Science Center, Pennsylvania Library Association, Pennsylvania Center for the Book, Pennsylvania's Promise for Children, Pennsylvania Association for the Education of Young Children and The Pennsylvania Child Care Association. This program is supported in part by the Institute of Museum and Library Services under the provisions of the Library Services and Technology Act as administered by Pennsylvania's Office of Commonwealth Libraries