PACCA News
May 2017
ECE Caucus Briefing on Child Care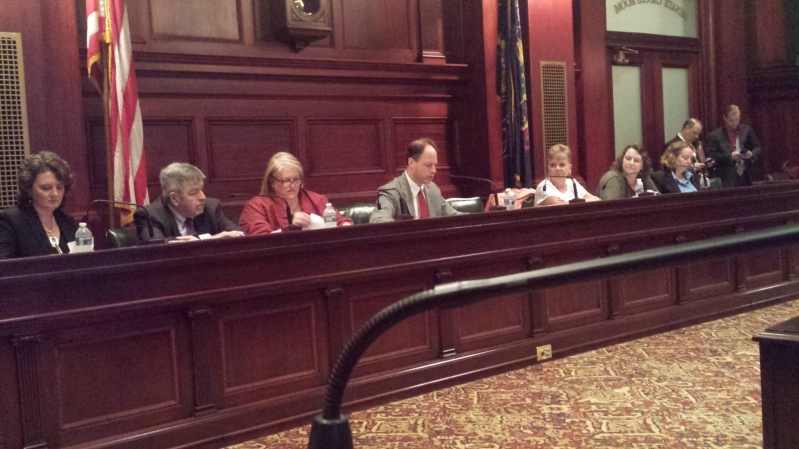 April 26, 2017, PACCA Board member John Hogan, Executive Director of Coordinated Child Care Services of Northeast Pennsylvania and PACCA Executive Director, Diane Barber joined colleagues from Early Learning PA, Early Learning Investment Commission, and the Office of Child Development & Early Learning at a briefing for PA's Early Childhood Education Caucus on child care issues.
Photo, from left ... Carey Harris, ELIC; John Hogan, Coordinated Child Care Services of NE PA; Diane Barber; Rep. Mark Longietti, ECE Caucus Co-Chair; Denise Cressman, PA Home-Based Child Care Providers Association; Jodi Askins, PennAEYC; Becky Mercatoris, OCDEL.
OCDEL and Advocates Talk Certification Concerns
OCDEL met with PACCA and other child care advocates on April 18, 2017, to begin an ongoing conversation aimed at supporting solution-based communication and feedback between providers, stakeholders, and Certification staff. The group exchanged strategies for changes to system practices and opportunities for improvement, especially around the uniform and consistent application of certification regulations. While individual situations between providers and Certification were not discussed, the dialogue did explore ways to support better understanding of the laws and regulations, as well as possibilities and limitations for system change. The conversation was facilitated by Laura Johns and Christopher Sleeme, Propulsion Squared, who have been working with OCDEL and stakeholders on PA's STARS Revisioning efforts.
PACCA Responds to House Budget Cut to Child Care
PACCA asks ... If they're really pro-family, lawmakers should restore this harmful child care cut
In an Op Ed in the 4/5/2017 issue of the Patriot News, Diane P. Barber, Executive Director, PACCA addressed the proposed $28 million budget cut made in HB 218, the House budget proposal for FY 17-18. The House budget would cut existing levels of child care funding. OCDEL projects the waiting list would increase to 25,000 children by the end of September 2017 with the average wait rising to nearly one year. As Barber asks in her Op Ed, "Why is it so hard to convince policymakers and others to invest in child care? High-quality child care is where early learning takes place. We have to overcome this "blind spot" that helping families work and care for their children is somehow feeding into an increased reliance on government." Read more at http://bit.ly/2pQzkqX
---
February 2017
Support for parents seeking child care
| 2/24/2017 | http://bit.ly/2mFD4JB
In an article appearing in the February 24, 2017 edition of the York Dispatch, Diane Barber, Executive Director of the Pennsylvania Child Care Association, was quoted: "the availability, or lack thereof, of affordable high-quality child care in the state will have economic consequences now and in the future. Child-care providers allow today's parents to continue working and providing for their families, but high-quality child care can give today's children a better chance in "tomorrow's workforce." "If we want to build our economy, we need workers," Barber said. "We need today's workforce, and we need tomorrow's workforce."