T.E.A.C.H.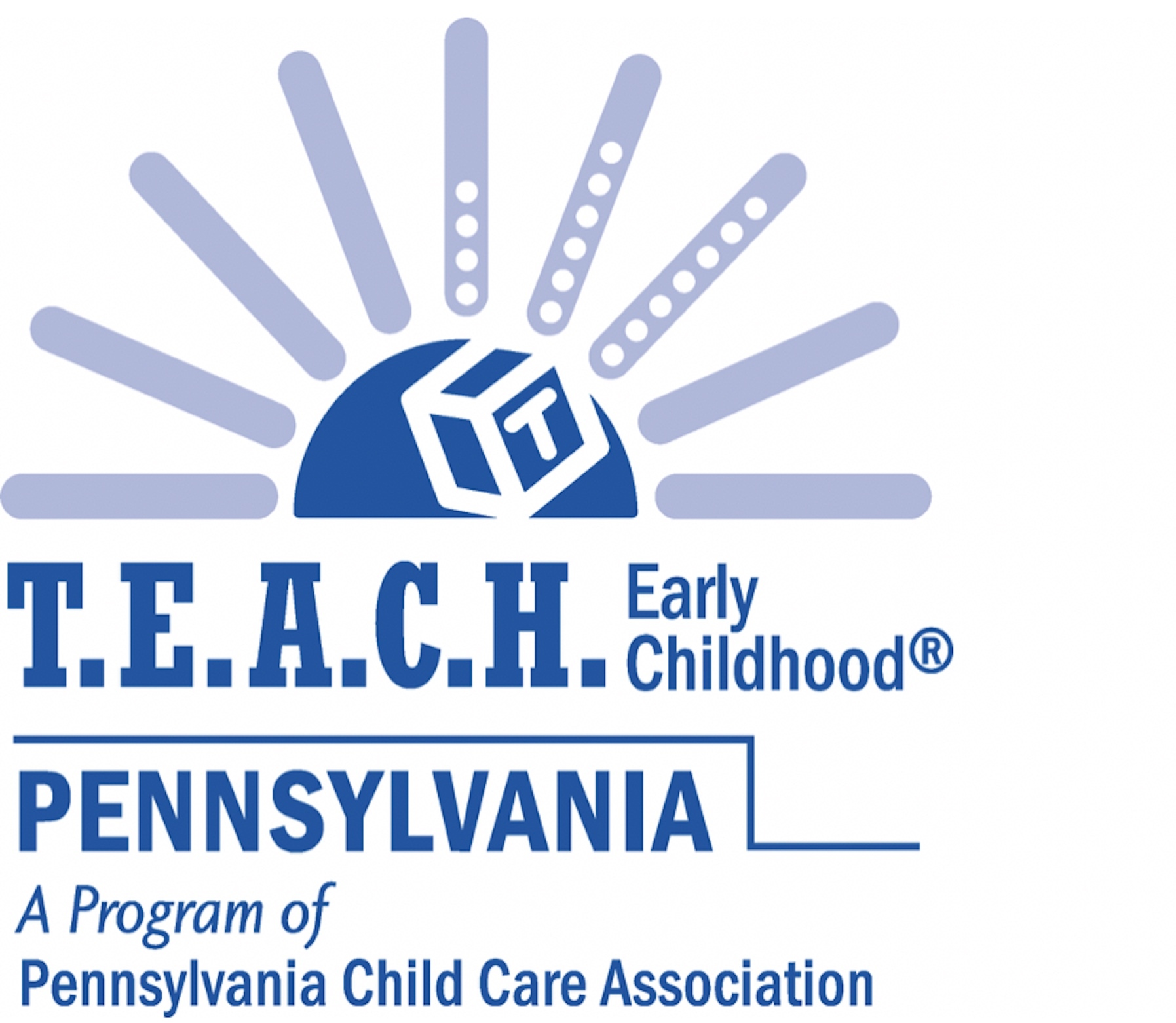 The T.E.A.C.H. (Teacher Education And Compensation Helps) Early Childhood® PENNSYLVANIA Scholarship Program works with early childhood providers, colleges and child care staff to offer scholarship programs and support systems that improve the education and compensation of child care workers.

T.E.A.C.H. obtains its funding through grants from businesses, foundations, and government. By helping to increase professionalism, raise wages and reduce turnover of child care staff, this public-private partnership brings higher quality care to Pennsylvania's children. T.E.A.C.H. is administered by the Pennsylvania Child Care Association.

T.E.A.C.H. Early Childhood® PENNSYLVANIA is a licensed program of Child Care Services Association.
Learn more about how to apply for the T.E.A.C.H. Early Childhood® PENNSYLVANIA Scholarship program HERE.
---
T.E.A.C.H. raises the standard in child care
The bottom line is that T.E.A.C.H. helps child care providers become more than just babysitting agencies. We raise the standard by making quality education and better compensation a reality for a greater number of child care workers.
These factors create a more productive atmosphere for teachers and children. The end result is more consistent care which contributes to a higher level of school readiness for children. In a nutshell, T.E.A.C.H. is not just about the success of child care staff. It is about providing high-quality early care and education necessary to help children be more prepared to learn in future years.
---
T.E.A.C.H. brings greater stability in child care
Continuity in a child care setting is important. Many children, however, are denied consistent care from the same teachers due to a high turnover of employees in the child care profession. High staff turnover in child care programs can hinder the development of children for obvious reasons. Greater turnover means less stability in the workplace and less continuity in terms of the time a particular teacher spends with children. T.E.A.C.H. helps participating child care programs to retain staff longer so that children receive the benefits of higher quality care. In short, greater retention of staff equals better quality service. And this translates into children who will be better prepared for future learning.
---
Four components of T.E.A.C.H.
Every T.E.A.C.H. scholarship has four key components:
Scholarship. The scholarship covers most of the cost of tuition and books. Recipients also receive a travel stipend each semester they are enrolled in class. T.E.A.C.H. requires that the sponsoring child care program offer paid release time for the student to attend class, study, or handle personal needs. Participants are assigned a counselor to assist them in scholarship management and career development.
Education. In one scholarship year, each participant must successfully complete a required number of credit hours (usually 9-15) toward a degree or credential in early childhood education.
Compensation. At the end of the scholarship year, if they complete their educational requirement, participants are eligible to receive either a stipend or a raise.
Commitment. Participants agree to continue working in their child care program for one year after each scholarship year.
---
Benefits of T.E.A.C.H.
Children are the main beneficiaries. They are able to bond with a provider who has made a commitment to the field, who is a specialist in early childhood education, who understands child development and who is sensitive to the needs of the very young. Child care teachers benefit by increasing their knowledge and compensation. More than 2,000 child care professionals in Pennsylvania have participated in the program.
Child care professionals benefit by increasing their knowledge and compensation. In turn, they experience increased professional status and job satisfaction.
Child care programs benefit by having staff members who are more knowledgeable about good early childhood practices. Participating center directors have reported reduced staff turnover, which has helped to improve their program quality and marketability
---
History of the T.E.A.C.H. Early Childhood® Project
The T.E.A.C.H. Early Childhood® Project began in North Carolina on July 1, 1990. The pilot project awarded 21 scholarships to teachers working in centers in Wake, Durham and Orange counties, allowing them to attend one of two community colleges to take courses leading to an associate degree in early childhood education. The pilot was immediately successful and additional funding was garnered from two regional foundations to test the model in four other parts of the state. For more information on the creation of T.E.A.C.H. in North Carolina, visit the Child Care Services Association website.
T.E.A.C.H. Early Childhood® PENNSYLVANIA awarded the first scholarships in September 1998 using private and business collaboration dollars. The Department of Public Welfare (now Department of Human Services) began funding scholarships in January 1999. These scholarships were only available in four pilot regions of the state. With increased funding from DPW in 2000-2001, T.E.A.C.H. Pennsylvania has expanded to offer scholarships statewide.