State & Budget Policy
Child Care Funding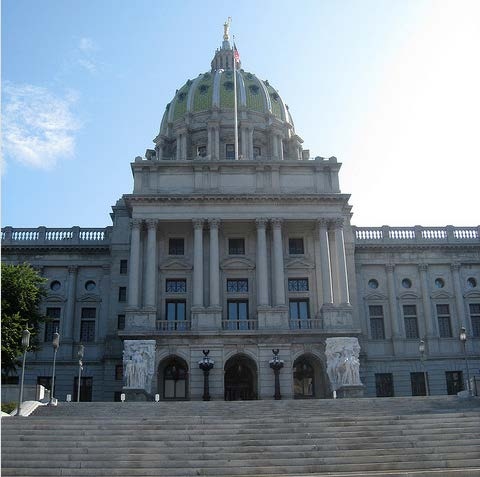 Pennsylvania uses a mix of state and federal funds to administer its early learning system. Typically, the first Tuesday after the first Monday in February the Governor proposes a budget for the next fiscal year. The General Assembly reviews and proposes a version that in collaboration with the Administration becomes the foundation for Pennsylvania fiscal and policy agenda for the next year.

Child care funding for subsidies and grants come from federal and state funds. Funding for child care includes federal Temporary Assistance for Needy Families (TANF) legislation and Child Care and Development Fund (CCDF). Money from this legislation is earmarked for child care subsidies, increasing quality, etc. The state budget determines exactly where the TANF & CCDF money will be spent (mostly through the PA Department of Public Welfare) and allocates state funds as well. Additional state funding is used to support Pennsylvania Pre-K Counts and the Head Start Supplemental Assistance Program. PACCA monitors budget negotiations and keeps members updated on developments.
---
PA House passes budget bill that would cut $28 million in existing child care funding in FY 2017-2018
---
Governor Wolf Proposes $35 million Increase to Child Care in FY 2017-2018
Governor Wolf's proposed FY 17-18 budget includes significant investments in early learning including $65 million for Pre-K Counts, $10 million for Head Start, $8.7 million for Home Visiting and $13 million for Early Intervention (B-5). The governor is also proposing $35 million in Child Care Services, which includes a $10 million initiative to reduce child care waiting lists, funding to replace reductions in federal funding, and cost to carry existing programs; however, no funding is proposed to address child care subsidy rates that have been stagnant for ten years.
OCDEL plans to increase tiered reimbursement by approximately 23% for STAR 3 and STAR 4 providers, maintaining tiered reimbursement and Merit Awards for STAR 2 providers. In a recent issue of the BUILD Early Learning News, it was noted that the change was a result of analysis indicating "… there is such an inequitable distribution of resources for at-risk children that programs serving the minimum percentage of at-risk children receive more than ten times the amount per at-risk child than programs serving 90-100 percent enrolled children with IEPs or receiving Child Care Works subsidy."
Proposed Tiered Reimbursement Increases – What it could look like
Disclaimer: The numbers below were calculated by PACCA and not provided by OCDEL or the PA Key. They based on information in the proposed FY 17-18 DHS budget increasing tiered reimbursement rates by 23% for STAR 3 & STAR 4 providers. The amounts are approximates.

In a STAR 4 program in Montgomery County, for a FT infant receiving subsidized child care a provider could be paid up to the Maximum Child Care Allowance (MCCA) of $45.35/day plus $10.30/day in tiered reimbursement = $55.65/day x 5 days x 52 weeks = $14,469.
In a STAR 4 program in Dauphin County, for a FT infant receiving subsidized child care a provider could be paid up to the Maximum Child Care Allowance (MCCA) of $35.65/day plus $10.30/day in tiered reimbursement = $45.95/day x 5 days x 52 weeks = $11,947.
2017 Budget Hearings: Child Care Questions
In February and march 2017, the Pennsylvania House and Senate Appropriation Committees held budget hearings in response to Governor Wolf's proposed budget. Administration officials and Department Secretaries fielded questions from legislators.
In House Appropriations Committee hearing on the Department of Human Services (DHS) Representatives asked Secretary Ted Dallas and David Spishock, DHS Budget Office, a number of questions about child care. When asked why child care rates have not increased since 2007 and how DHS can ensure sufficient support. Sec. Dallas remarked the approach has been to pay for and reimburse based on quality. Sec. Dallas indicated that changes in redetermination for child care from 6 months to 12 months, as well as recognized savings from reduced need for services that could result from the proposed increases in minimum wage had both been taken into account in the proposed budget. Sec. Dallas was asked about the changes to the Keystone STARS system and if more child care facilities will be eligible in the new year. Sec. Dallas said the program is used to measure service quality and includes higher reimbursement rates for better ratings. He also mentioned ongoing reform efforts for the system.
In the Senate, a member asked about child care rates in the context of the proposed minimum wage increase. Sec. Dallas suggested that it is unlikely child care rates would increase without an increase in minimum wage.
---
Increases to STARS Add-Ons Welcome News to Providers for 2016-2017
The Governor's signature on portions of the FY 15-16 budget will release much needed incentives for STAR 3 and STAR 4 programs who will see the add-on rates for children receiving Child Care Works subsidy increase on average $2.45 for the STAR 3 full time rate and $3.05 for the STAR 4 full time rate. The budget also increases subsidy add-on rates for STAR 2, 3, and 4 programs serving infants and toddlers. For 2015-16, STARS add-on subsidy rates have been delineated by age group (infant, young/older toddler, preschooler) to better reflect the cost of care for each age group. Programs will receive the increases retroactive to August 1, 2015, with payments disbursed in March.

FY 2016-2017 Cuts $20 million from Child Care
---
Governor Signs FY 2014-2015 Budget

While the General Assembly is not happy with how the FY 14-15 Budget was enacted, early learning investments survived even with a potential $1.5 billion shortfall on the horizon for next year. Below is how the early learning lines made out:
Pre-K Counts ($97,284,000) received the $10m increase proposed by the governor.
Head Start Supplemental ($39,178,000) is funded at the 13-14 level, as proposed by the governor.
PDE Early Intervention received the increase proposed by the governor.
DPW Early Intervention is funded at the 13-14 level. This is the same as the House proposal, which is a reduction from what the governor proposed. Per OCDEL staff, they will be using unspent federal funds to plug this hole so the level-funding of the state appropriation won't have a negative impact.
Child Care Services ($155,691,000) governor's proposed $18K increase is included. Also, the federal CCDBG line was increased to the level proposed by the governor for the waiting list initiative.
Child Care Assistance ($152,609,000) is funded at the 13-14 level, as proposed by the governor.
Nurse Family Partnership and Family Centers (Parents as Teachers home visiting model funded through this line) level-funded, per governor's proposal.
Revenue Shortfalls Plague PA Budget
Pennsylvania revenues were down $328 million in April leaving $506 million budget gap so far for FY 2013-2014. Governor Corbett's FY 2014-2015 could face as much as $1 billion shortfall. Pennsylvania has been warned by major credit rating agencies that pension debt and budget issues could result in the downgrading Pennsylvania's credit rating, making it more expensive for the state to borrow money. As a result, the Governor and General Assembly will need to find a way to balance this year's budget and look closely at both revenue and expenses for FY 2014-2015. This will all need to happen in June since the General Assembly recesses until after the Primary Election.

Budget Hearings & Child Care
Both the Senate and House Appropriations Committees held their budget hearings for the Department of Public Welfare this week. The agenda in both hearing focused extensively on Medicaid expansion, Healthy PA, and the Affordable Care Act. In the Senate hearing, Senator Judy Schwank (D-Berks) asked about waiting lists and noted that providers in her district were reporting that their enrollments were dropping or parents were cutting back their hours because child care was so expensive. She questioned putting money into waiting lists when lists were so low. DPW Secretary Beverly Mackereth agreed that they were low now. Speaking further on child care, the Secretary noted, "We are investing in quality ... through strategic investments in programs like Keystone STARS and Rising STARS ... (We are telling providers) If you want additional dollars you've got to improve your quality." Sen. Schwank shared that her providers are engaged.
House members asked about waiting lists, the tuition assistance program and rates. As noted in the Senate hearing, the Secretary confirmed that the budget is using federal funds to reduce the waiting list, which is low now, but fluctuates. She shared that the budget funds the tuition assistance program at the same level as this year; overall Rising Stars/Keystone STARS is proposed to be level funded in FY 14-15. When asked about the rate freeze that allows new providers to receive potentially higher rates than existing providers, she responded that "we are paying for quality" ... through Keystone STARS.

Governor Corbett FY 14-15 Budget Proposal -- Selected Early Learning Investments
On February 4, 2014, Governor Corbett shared his budget proposal for FY 2014-2015 with the Pennsylvania General Assembly. He noted Pennsylvania's winning of the Eary Learning Challenge Grant.
The Investment

CHILD CARE ASSISTANCE
State funding for Child Care Assistance for TANF and former TANF families remains at FY 2013-2014 levels of $152.609. Approximately 55,000 children receive assistance through this program each month.

CHILD CARE SERVICES
State funding for Child Care Servces was increased by $18,000 for FY 2013-2014 for $155.691 million. The Governor proposes using $15 million in new federal funding from Child Care and Development Block Grant to provide services for 2,895 addtional children from low income families. Approximately, 64,500 children from low income families are expected to be served each month. This line item also funds Keystone STARS and the Rising STARS Tuition Assistance Program.

PENNSYLVANIA PRE-K COUNTS
Increases state funding for Pre-K Counts by $10 million dollars from $87.284 million to $97.284 million to serve an additional 1,670 children.

HEAD START SUPPLEMENTAL ASSISTANCE PROGRAM
Maintains state funding for Head Start at FY 2013-2014 levels of $39.178 million
In addition ...

EARLY INTERVENTION (0-3)
Early Intervention (0-3) was increased by $4.192 to $132.166 million.
EARLY INTERVENTION (3-5)
Early Intervention (3-5) was increased $841,000 to $237.516 million.

What's Next
The General Assembly will hold budget hearings. It is imperative that early childhood advocates know that there a huge gap still remains between the resource proposed and the resources need to ensure that Pennsylvania's children and families have access to high-quality early learning services.
---
FY 13-14 Budget Boosts Funding for Child Care, Pre-K Counts and Head Start
With hours to go before the midnight deadline and the start of the new fiscal year, Governor Corbett signed the $28.4 billion FY 2013-2014 Pennsylvania Budget. Overall, early childhood education funding saw increases in Pre-K Counts, Head Start, and Child Care. The FY 2013-2014 budget sustains increases to Pre-K Counts ($4.5 million) and the Head Start Supplemental Assistance Program ($1.9 million). Child Care Services funding increased by $14.3 million from the FY 2012-2013 budget. This amount included $4.1 million savings from the consolidation of the CCIS that was moved from the Child Care Assistance line item to Child Care Services, $3 million from the Governor's budget request and an addtional $7.2 million (that will help buffer any losses of federal funding due to sequestration). Child Care Assistance lost $4.1 million, however this funding was moved to Child Care Services and will help the Commonwealth reduce waiting lists allowing an additional 1,400 - 1,600 children to be served.
Governor's 2013-2014 Budget A Down Payment on Early Learning
On February 5, 2013, Governor Corbett presented his FY 2013-2014 budget proposal to the Pennsylvania General Assembly. Statements from his Budget Address:
"I propose adding another $6.4 million dollars toward our Pre-K Counts and the Head Start Supplemental Assistance programs. This money gives an additional 3,200 children, and their families, access to quality full and part-day programs as well as summer kindergarten readiness programs."
"Why do we want to spend more on these programs? Because every child in Pennsylvania deserves an equal start in life, and I intend to see that promise kept."
"When it comes to children, we must spare no effort."
"My budget proposes that we assist more than 210,000 low income families and enable 1,400 children now on waiting lists to receive child-care assistance."
"This budget includes more than $8 million dollars in additional resources to provide health care coverage to more than 9,300 additional children through CHIP."

The Investment

CHILD CARE SERVICES (child care assistance for low income families, Keystone STARS, etc.
$7.119 million to expanded subisidized child care services for for approximately 1,400 additional children of low-income families. (Include $3 million in annualized savings from the consolidation of CCIS are reinvested to provide subsidized child care services)
$3 million for child care quality enhancements to further improve the quality of child care services through enhanced incentives for providers participating in Rising Stars Initiative.
$148,488, 000 in total state funding proposed for Child Care Services in FY 2013-2014.

CHILD CARE ASSISTANCE (child care subsidy for TANF & Former TANF families)
$4.119 million reduction in this line itme as a result of annualized saving from the consolidation of CCIS. Savings moved to Child Care Services.
$152,609,000 total state funding prosposed for Child Care Assistance for FY 2013-2014.

PENNSYLVANIA PRE-K COUNTS
$4.5 million to provide additional resources in the Pre-K Counts program to serve an additional 580 children in full- and part-day programs. (Total proposed state funding $87,284,000)

HEAD START SUPPLEMENTAL ASSISTANCE PROGRAM
$1.9 million to serve an additional 210 children in early learning programs. (Total proposed state funding $39,178,000)

What's Next
As the General Assembly works on the budget, we'll need to make sure that legislators know the impact of early learning programs and that, as budget negotiations move forward, child care and early learning funding isn't cut.